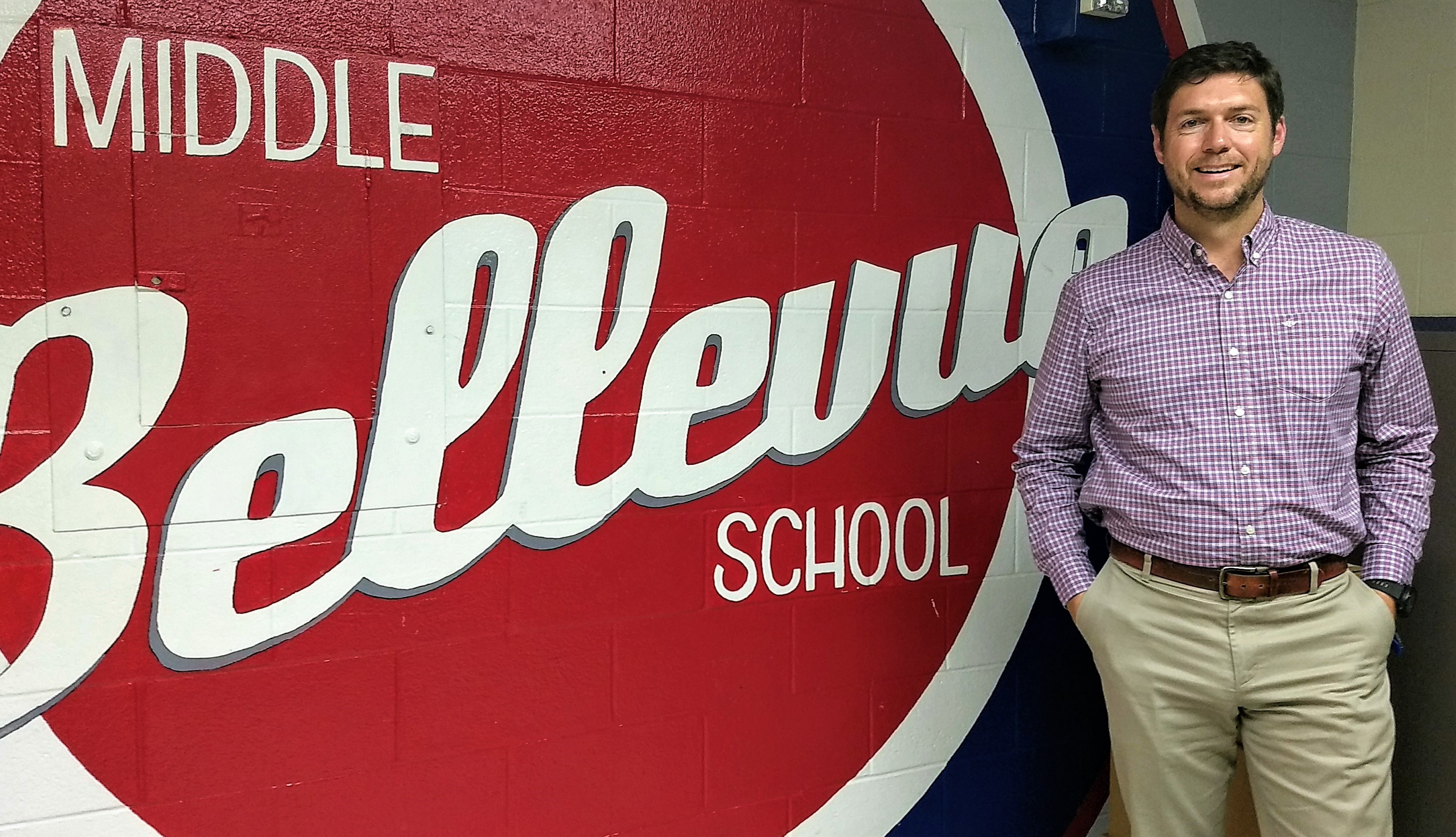 Seth Swihart photo at BMS by Vince Troia
By VINCE TROIA
Buoyed by energy and enthusiasm, new principal Seth Swihart is looking to change the culture at Bellevue Middle School this fall with deeds, not words.
"Talk is cheap," he said. "I know I have to win them over," he said.
Swihart, who's hosted meetings with staff, parents and students over the last two months since being named by Metro Nashville Public Schools to lead BMS, says culture change is the number-one goal.
"Student culture, teacher culture, and student-teacher culture. We want to improve it all," said Swihart. "But it is hard to learn in a place where you are not comfortable, you're distracted, don't feel valued, don't feel like you belong."
For years the middle school's reputation has been maligned by complaints, discipline issues and families avoiding BMS and opting private or religious schools, home schooling, or even moving out of the county.
This has created the need for a bridge from elementary school to Bellevue Middle over what seems like a moat. Whether it's valid, it is an issue each of the last five principals (in just eight years) has inherited.
Swihart knows many of the people dispensing unfavorable comments about the 'Home of the Owls' — primarily on social media — haven't been in the school building for years, or their kids are now grown up. To counter that, he's simply inviting everyone in.
"I invite people in here as much as possible, including having fourth graders come in and shadow fifth graders for the day; or giving tours whenever people walk in the door," he said. "I'm not ever going to say this is the wrong day to visit."
The hurdle from elementary to middle school is on Swihart's shoulders, but he believes he has a "great blueprint" for that — one he brings from J.T. Moore Middle School, where he served as assistant principal since 2015.
"They were in a similar situation eight or nine years ago, and through slow, steady community engagement — inviting people in or reaching out to people intentionally — over time the rumors begin to dispel," he said. "People said 'we heard all these things, and now we're here, and it's totally different.'"
Swihart, 41, also taught history at Hillsboro High School in Green Hills for 11 years before going to J.T. Moore. He also coached basketball and soccer at Hillsboro and was thrice named Hillsboro's Educator of the Year (2010, 2014, 2015).
He earned status as a National Board-Certified Teacher (2011) and was named Tennessee History Teacher of the Year.
'This is my community'
Accolades aside, Swihart says his greatest tool for winning over BMS, is that he and his family call Bellevue home.
"I live here in Bellevue, my kids will go to Bellevue Middle, and I cannot imagine a better opportunity to invest in my community than by being principal at Bellevue," Swihart said. "This is my community, but it is really important for me to be a dad and husband first, before a principal. So, I had to be near home to balance that as much as possible."
As Swihart moved from teaching into administration, he said he saw himself "doing this principal thing." He also said he knew he would "pour myself into wherever I went, so being near home was really important." Now, he is just three minutes away from the school.
"I am so excited about Mr. Swihart's vision for the school and the experience he brings," said Sabrina Sullenberger, outgoing PTO president. Sullenberger and incoming president Carmen Reese Foster have spent a lot of time with Swihart, watching and assisting in the many changes being made in the hallways, classrooms and school grounds, this summer.
Swihart has communicated expectations for rigor and high academic achievement, and at the same time "emphasized that all students need to feel connected to the school and cared for at the school, since that is the context in which best learning occurs," according to the PTO.
In fact, at June's Meet-and-Greet — attended by 200 parents, students and community members — Swihart spoke about changes from little things like paint and replacing ceiling tile to larger issues of discipline and inclusion.
Swihart said that during the application process, Metro Nashville Public Schools did a good job of sharing data: both quantitative (test scores and such) and qualitative (about culture). He said he realized it would be "really hard to learn in that kind of environment. So that's our number one focus, because that will ultimately have a really positive impact on academics."
The one thing he can do immediately to show that focus is by "talking about it, being present and being a positive presence," while making changes in the school that he can control. He has had the cafeteria painted, hallways touched up, new scoreboards mounted in the gym, an all-day fifth grade orientation established, and the outdoor pavilion renovated.
"These are all outward signs that we care about the building and the people that are here in it," Swihart said.
One teacher to another
Not everyone can be, or even aspires to be, a middle school principal, but Swihart thinks the move from teacher to principal will fit him.
"I still see myself as a teacher," he said. "And I want to make the classroom environment as great as possible for teachers. They're the most important people in the building."
One of his goals this year is to take away all the things that are swirling around teachers and distracting them and having them just focus on what's important. He said if he does his job well, teachers will feel like things aren't so crazy or that they're being pulling in several different directions at the same time.
"There is always a way to look forward in a positive way. Even during what seems to be a challenging event," he said.
The new principal has hosted a few teacher orientation sessions this summer, as he will have up to 18 new teachers this year (25 total staff positions). The school's assistant principal, Dr. Susan Carter, is staying on, and Swihart was impressed that she got on the ball early and secured some new hires even before he arrived.
Swihart said that people who think the pressure-packed role of principal is a thankless, unattractive job miss the bigger picture.
"Well, from the teacher angle you just see all the stuff that (principals) are required to do, but you don't fully get the picture of the exciting part, which is to chart a vision for the organization and take people there with you," he said.
It's what he hopes to do at Bellevue Middle, and he wants everyone to jump aboard.
"I love being around people and getting energy from them — whether that's students or teachers. I'm open minded to good ideas, no matter where they come from," Swihart said. "I just want things to work for everybody. I want people to leave here tired but fulfilled. Not just worn out."
The same holds true for students — except maybe not so tired. And what should his new students expect from their new principal when classes begin on Aug. 5?
"My job to make sure they know who I am, so I'm going to do everything I can to meet the buses, say 'Hey, I'm your principal,'" Swihart quipped. "Then in the first few days, I'll have a meeting with every grade level, so they can all hear my voice and see my face."
"I want them to know who I am, and that I love this school, and that I care about every single one of them. And to know we are going to have fun and we're going to learn a lot."
Swihart is a 2000 graduate of Kenyon College with a B.A. in Sociology, later earning his M.Ed. in Secondary Education from Vanderbilt University. Currently, he is pursuing his Doctorate in Education at Vandy and hopes to finish in May 2021.