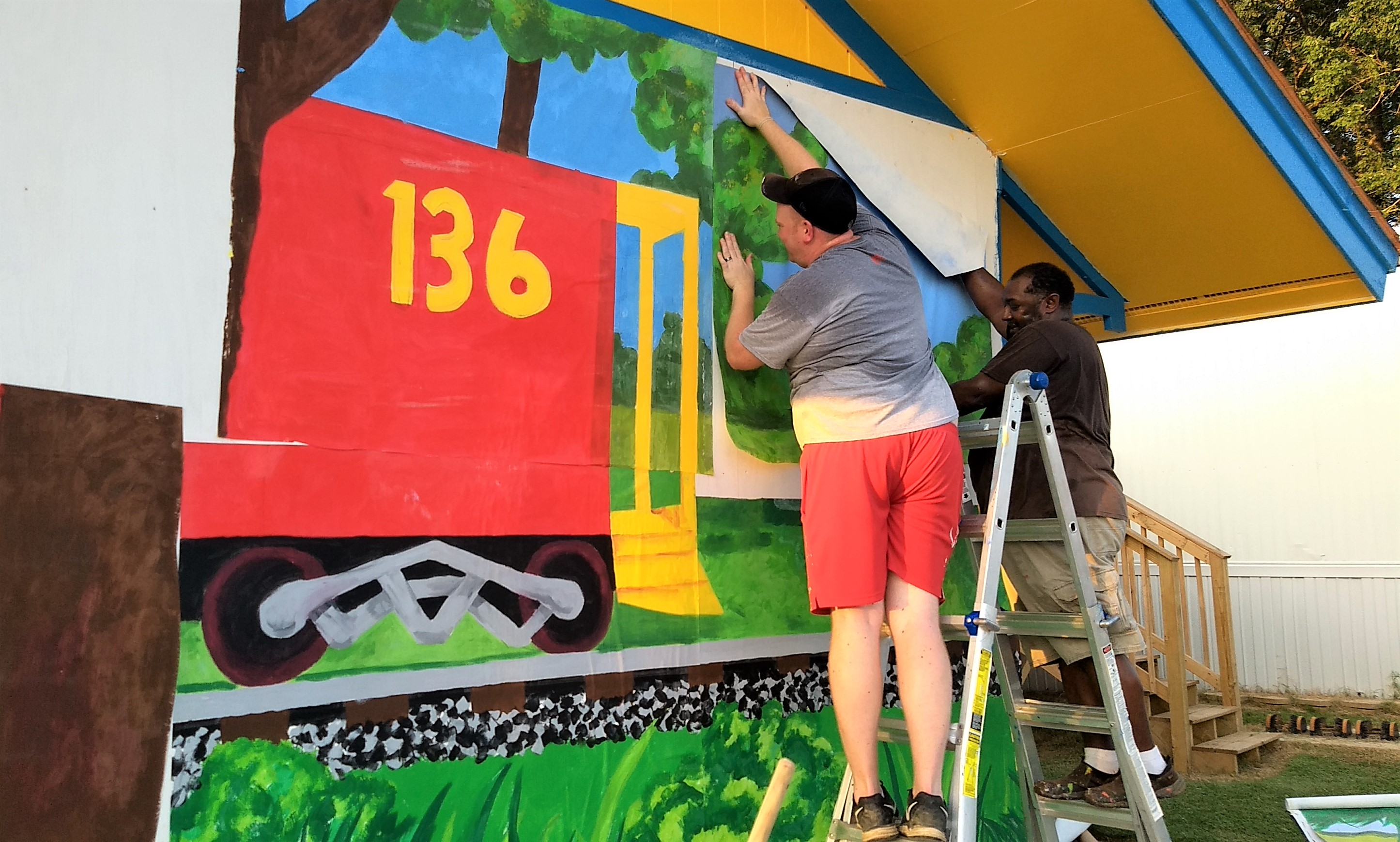 Nashville artist Michael McBride, right, and volunteer Zach Heil, put finishing touches on a new mural at Red Caboose Park. (Photo by Vince Troia)
By VINCE TROIA
Volunteers have been diligently putting finishing touches on the renovations at Bellevue Park and Red Caboose Playground this week in advance of Saturday's official ribbon-cutting and dedication ceremony.
Beset by weather delays, the park and playground upgrades have taken longer than anticipated. Work to renovate the local landmark began in late 2018, and much of the cleanup, painting, and landscaping work has been done by community volunteers.
"It turned out to be a lot more work over a longer period of time, but I'm happy with the results, and I think the community will be too," said Michael McBride, the Nashville artist who committed time and talent to the project.
He and a few volunteers battled hot temperatures Sunday and Monday working to complete a Bellevue-themed mural and painting picnic tables. Another new mural will serve as the backdrop on the remodeled outdoor park stage.
Despite the delays, the new playground opened a few weeks ago and families have been returning to the park. The old playground, built by volunteers in 1996, was in significant decline and posed public safety hazards, prompting a complete rebuild.
"I'm so excited that it's finally open," said newly elected Metro Council representative Gloria Hausser, who played a key role in the redesign, working with Metro Parks Department and other Bellevue leaders.
Bellevue Park and Red Caboose Playground for years has been home to the Friday evening concerts, birthday celebrations, egg hunts, a farmer's market, and the long-running Bellevue Picnic, among other events.
In fact, some birthday parties have been held at the same time volunteers were working and painting nearby. Not ideal situations, but it shows how much the community has missed using the park for social events, McBride said.
The official reopening ceremonies will get underway at 9 a.m. on Saturday, Aug. 17 at the park, Colice Jean Road at Highway 70 South. Mayor David Briley is expected to be on hand and the public is encouraged to attend this free community event.
Plans call for the playground to be officially reopened, and for commemorative cabooses to be distributed to those in attendance. Food trucks and live music is also planned.
"Weather played a big part in this, unfortunately," said Sheri Weiner, the District 22 council member who spearheaded the park renovation and had hoped for June reopening.
The authentic full-scale caboose, for which the playground is named, has been moved to the front of the park. Its old location is now part of the construction site for a new fire station.
Fundraising events were launched to help with the $650,000 renovation costs, including the purchasing of commemorative bricks or park benches.